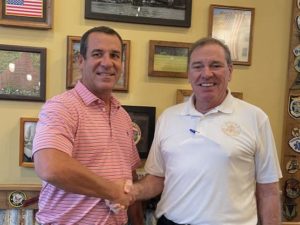 Today, the Griff Griffitts for State Representative campaign announced the endorsement of U.S. Representative Dr. Neal Dunn, who represents the Second Congressional District of Florida. Dunn, a distinguished surgeon of 35 years who has led hospitals and other health care initiatives, was elected to the US Congress in 2016 and enjoys widespread popularity throughout the district for his principled stands for conservative values. His district is the largest in Florida, including Bay County and 18 other counties.
"I wholeheartedly endorse Griff Griffitts for State Representative," said Congressman Dunn, "because I've had the opportunity to work with him while he's been a County Commissioner, and I know he will bring a strong work ethic, mature business skills, high integrity, and Bay County values to the job. We need more people in the Florida Legislature like Griff, with a breadth of experience in small business and a proven track record of fighting for conservative values."
Griff Griffitts, the current County Commissioner for District 5, has previously served as Commissioner on the Panama City Beach Civil Service Board, the Bay County Planning Commission, and the Bay County Tourist Development Council. Griff is also a member of the Florida State-Panama City Foundation Development Board and has served as the Chairman of the Panama City Beach Chamber of Commerce, as well as on the board of the Bay County Chamber of Commerce.
"I'm deeply honored by Congressman Dunn's support," said Commissioner Griff Griffitts. "He has served the people of Bay County extremely well, especially as we have had to overcome tough challenges, from Hurricane Michael to Covid-19 and now a recovering economy. I've supported his work in Congress, and I look forward to continuing to work with him so the people of Bay County can realize our full potential."